18. 01. 2015
Wöhler Bohemia acquired the MBK division
Wöhler Bohemia s.r.o., based in Pelhrimov in the Czech Republic, further expands its machinery programme for paintbrush and roller production and acquires the paint brush and paint roller machinery division of MBK Machinery in Kisslegg, Baden-Württemberg.
The company Wöhler Bohemia was founded in 1994 as a subsidiary of the German based Wöhler Group companies and has developed considerably over the years. Apart from commissioned work for the German parent companies Wöhler Bohemia has managed to increase the turnover made with its own products to over 80% of the total. By acquiring the roll pin division, which comprises not only production machinery for paintbrushes and rollers but also mixing, metering and dispensing systems, Wöhler Bohemia effectively further expands its existing machinery programme.

MBK Maschinenbau GmbH has been one of the global market leaders in welding machinery for wire reinforcements in the concrete and construction industry for some years now and has decided to set its focus solely on this core competence in the future.

This strategic move will further strengthen Wöhler's market position while increasing its scope for innovative developments: Already a leading manufacturer of production machinery for paintbrushes, industrial and domestic brushes Wöhler not only acquires new expertise but also the field of mixing, metering and dispensing systems. This makes Wöhler a unique supplier of machinery and solutions optimally tailored to the individual needs and desires of the customer.

Albert and Mario Pfender, Managing Directors of MBK Maschinenbau GmbH, are convinced that Wöhler Bohemia is the right buyer for their roll pin division: Wöhler's experience and expertise will guarantee their customers first class service for their machines in the future. Jaroslav Markvart, Managing Director of Wöhler Bohemia s.r.o., added: "Customers can rely on themselves being in good hands with us at Wöhler Bohemia!" From today all customers working with MBK machinery can access this special new service contact at Wöhler: .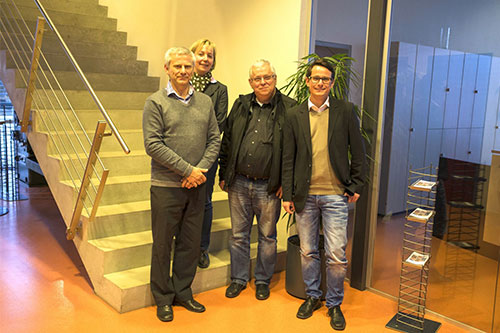 v. l.: Jaroslav Markvart (Managing Director Wöhler Bohemia s.r.o.), Dr. Katrin Wöhler (Wöhler Holding GmbH), Albert Pfender und Mario Pfender (Managing Directors MBK Maschinenbau GmbH) Photo: Wöhler